News
Hansa Stove Products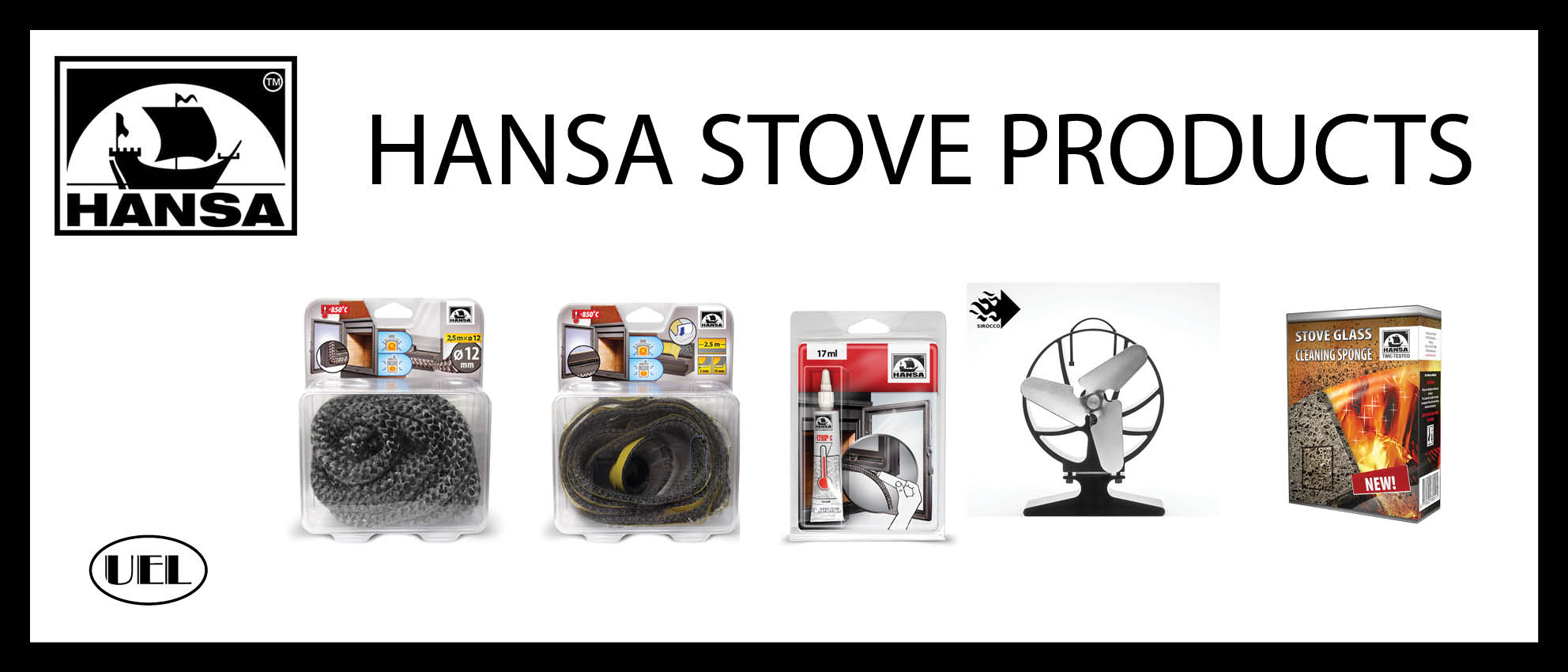 HANSA CERAMIC FIBRE STOVE ROPE
Sizes available
2.5 X 6MM INCLUDING GLUE
2.5 X 8MM INCLUDING GLUE
2.5 X 10MM INCLUDING GLUE
2.5 X 12MM INCLUDING GLUE
HANSA HEAT RESISTANT GLUE
HANSA CERAMIC FIBRE STOVE ROPE – SELF ADHESIVE 2.5 x 12mm
Heat resistant gasket for the doors of stoves, ovens and other heating devices. Heat resistance properties of the rope can withstand temperatures up to 850°C. Anthracite colour goes well with the typical dark colour stoves. Tight weave provides a rigid structure and a long reliable service life.
HANSA SIROCCO STOVE FAN
SIRCCO FAN DESIGN
LOW CENTRE OF GRAVITY Due to its low centre of gravity,
SIROCCO fan can be steadily and securely positioned on a stove. BLACK FRAME Black colour of the fan perfectly matches with different colours of stoves.
ALUMI NIUM COLOUR BLADES Aluminium colour fan blades can be easily noticed when rotating.
ADVANTAGES
UNIVERSAL Can be used with all types of stoves: cast iron, stainless steel, tile or stone.
OPERATES WITHOUT NOISE
UPTO 30% MORE HEAT Sirocco fan allows heating room up to 30% faster.
UPTO 20% LESS FUEL CONSUMPTION Sirocco fan allows saving up to 20% of stove fuel.
TECHNOLOGY
FREE OPERATION No need to use batteries or power cords; operates by using thermal energy.
READY TO USE You only need to unpack and put onto a stove. OPERATES FROM so•c Operation starts within 1 min., when stove surface heats up to 50°C.
WITH ADJUSTABLE SCREW LEGS SI ROCCO can be used on uneven surface's or oblique stoves.
SIROCCO
HANSA EFFICIENT CHIMNEY SWEEPING LOG
Long burning log for cleaning and maintenance of flues, chimneys and solid fuel appliances. Can be used with these types of fuel: wood and coal.
HANSA STOVE GLASS CLEANING SPONGE
For fast cleaning of dirty and sooty stove glass doors. Designed for multiple usage without scratching a glass!
Talk to your local sales representative today!