News
Now Stocking – EMMETI Multilayer Gerpex Fittings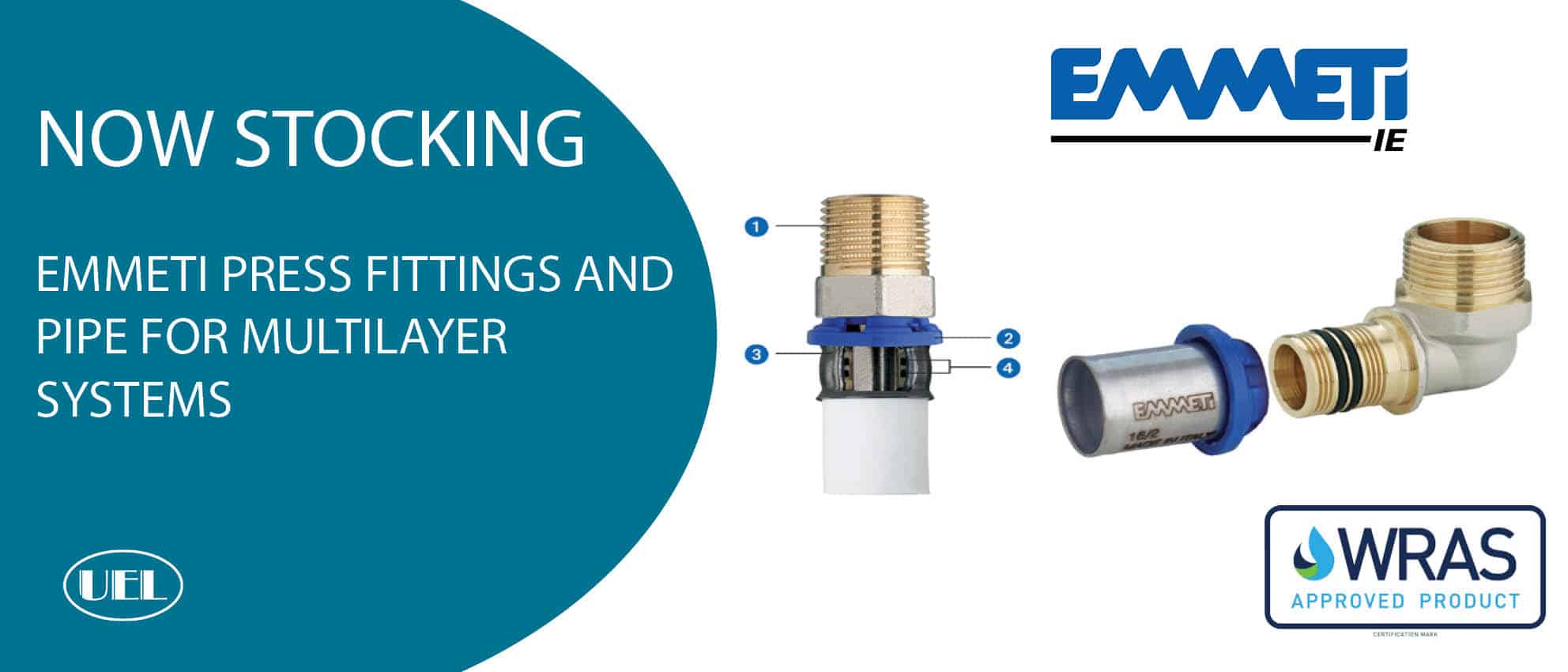 Gerpex is the modern and efficient Emmeti system used to build heating and sanitary systems with multilayer pipes, made from cross-linked polyethylene (PEX), aluminum, and special fittings. The broad range of fittings and the various fastening options make the Gerpex System a complete and highly reliable product.
The Gerpex System is suitable for:
• Heating systems
• Chilled water air-conditioning systems
• Hydraulic systems
• Compressed air systems (*)
(*) An adequate filtering system has to be in place to avoid contact
between compressor lubricant oil and O-rings included into the fittings
BENEFITS OF MULTILAYER PRODUCT
– Ultra-resistant to high temperatures
– High resistance to corrosion
– Reduced linear expansion
– Thermal insulation
– Low-pressure drops
– Suitable for high water flow rates
– Resistant to crushing and abrasion
– Oxygen impermeable
– Resistant to external chemical agents
– Resistant to electrochemical corrosion
– Reduced weight and fast setup
INSTALLATION BENEFITS
– Installation on site is extremely fast compared to copper and stainless steel systems due to the reduced number of joints required.
– The pipe can bend readily making the routing of the pipe around the building very quick and easy.
– Once bent the pipe retains its form so will stay in the desired position and not sag like some plastic alternatives.
– The Gerpex pipe has linear expansion characteristics similar to copper and far superior to polybutylene and polypropylene, saving time and money during installation by removing the need for additional expansion considerations.
– The product is light compared to copper or stainless steel A 200-meter coil of 16mm pipe weighs only 26kg compared to copper which would be 56kg making Gerpex much easier to carry around on site.
– Cuts down the number of hot works on site as no soldering is required at the joints. Saving time on permits to work and insurances.
– The pipe has low scrap value compared to copper or stainless steel reducing the risk of theft from site.
– The aluminium in the Gerpex pipe is picked up with a pipe detector giving you peace of mind if drilling or fixing into a wall or floor.
– There is no need to paint any exposed Gerpex pipe saving time on decoration and maintenance.